7/7 London Bombing HOAX
2 min read
Same family of actors just doing what they do best. Scamming the public and supporting the actor based reality the public believe is real but in reality is just s scripted out fiction the media conglomerates use as their content.
The Official Story
The 7 July 2005 London bombings, sometimes referred to as 7/7, were a series of coordinated terrorist suicide bomb attacks central in London, which targeted civilians using the public transport system during the rush hour.
On the morning of Thursday, 7 July 2005, four Islamist extremists separately detonated three bombs in quick succession aboard London Underground trains across the city and, later, a fourth on a double-decker bus in Tavistock Square. Fifty-two people were killed and over 700 more were injured in the attacks, making it Britain's worst terrorist incident since the 1988 bombing of Pan Am Flight 103 over Lockerbie, Scotland, as well as the country's first ever Islamist suicide attack.
The explosions were caused by homemade organic peroxide-based devices packed into backpacks. The bombings were followed two weeks later by a series of attempted attacks that failed to cause injury or damage. The 7 July attacks occurred the day after London had won its bid to host the 2012 Olympic Games, which had highlighted the city's multicultural reputation.[1]
https://en.wikipedia.org/wiki/7_July_2005_London_bombings
THE REALITY
Just actors.  No one died, no one was hurt.  It was a drill they admit to having that the media, then the claim was real when it wasn't.  It's the same thing they do here in the states so I imagine there is the same government grant incentive program over there, as they have here, that pays the location/business/city etc. That host the drill.
You can't deny this when you can clearly see there are well known actors and even their spouse in the background.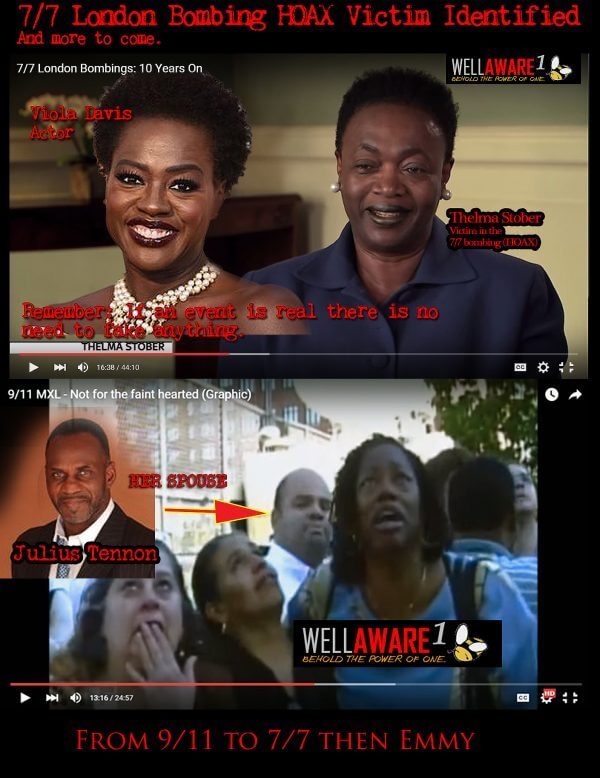 MONTY PYTHON
THEN WE HAVE 3 MONTY PYTHON MEMBERS.  Not 1, not 2, but 3 of them so don't try and tell me these people are look alike and it's all a coincidence.  You know that's Bullsh*t.
THE GREEN SCREEN
ARIZONA ACTORS
ANOTHER WELL KNOWN HUSBAND AND WIFE TEAM
AND FINALLY THE GREENBERG CONECTION
Anne Levitman Greenberg