Drew Peterson Murder Case Solved – Royals Involved
11 min read
Drew Walter Peterson (born January 5, 1954) is a retired Bolingbrook, Illinois, police sergeant and convicted felon who first received national publicity in the United States in 2007 when his fourth wife, Stacy Ann Cales Peterson, disappeared. Suspicion of foul play grew within the public and law enforcement, fueled in part by the untimely death of Drew's third wife just three years prior.
People ask me all the time, with all these actors involved how do they keep it a secret.  This event here demonstrates that perfectly.  If you can't trust your family who can you trust?
The Actor Donald Sutherland, a member of the Order of Canada.  Playing the role of a Police officer in the US who is said to of murdered his 3rd wife.
Donald McNichol Sutherland, OC (born 17 July 1935)[2] Is a Canadian actor whose film career spans 50 years.[1] Sutherland is known for playing a diverse range of characters, both leading and supporting, in films such as The Dirty Dozen (1967), M*A*S*H (1970), Kelly's Heroes (1970), Klute (1971), Don't Look Now (1973), Fellini's Casanova (1976),1900 (1976), The Eagle Has Landed (1976), Invasion of the Body Snatchers (1978),Ordinary People (1980), JFK (1991), Cold Mountain (2003), Pride & Prejudice (2005), and The Hunger Games film franchise (2012–2015). He is the father of actor Kiefer Sutherland.[3]
Sutherland was made an Officer of the Order of Canada on 18 December 1978[16] and was inducted into Canada's Walk of Fame in 2000.[17] He maintains a home in Georgeville, Quebec.[18]
His son, Kiefer, an actor best known for his role as Jack Bauer on the TV action/thriller series 24, and Kiefer's twin sister, Rachel, were born to Sutherland and his second wife, Shirley Douglas, daughter of well-known Canadian politician and the "father" of Canada's universal healthcare system, Tommy Douglas.[19]
Donald Sutherland met his current wife, French-Canadian actress Francine Racette, on the set of the Canadian pioneer drama Alien Thunder. They have three sons: Rossif Sutherland, Angus Redford Sutherland, and Roeg Sutherland.[19]
His four sons have all been named after directors whom Sutherland has worked with: Kiefer is named after American-born director and writer Warren Kiefer, who, under the assumed name of Lorenzo Sabatini,[20] directed Sutherland in his very first feature film, the Italian low-budget horror film Il castello dei morti vivi (Castle of the Living Dead); Roeg is named after director Nicolas Roeg; Rossif is named after French director Frédéric Rossif; and Angus Redford has his middle name after Robert Redford.[19]
Sutherland became a blogger for the American news website The Huffington Post during the 2008 United States presidential election campaign.[21] In his blogs, he stated his support for Barack Obama.[22]
Drew Walter Peterson (born January 5, 1954) is a retired Bolingbrook, Illinois, police sergeant and convicted felon who first received national publicity in the United States in 2007 when his fourth wife, Stacy Ann Cales Peterson, disappeared. Suspicion of foul play grew within the public and law enforcement, fueled in part by the untimely death of Drew's third wife just three years prior. Stacy was never found, and Drew has not been charged in her case.
In 2009, Peterson was indicted for the murder of his third wife, Kathleen Savio, after a second autopsy showed evidence of a struggle. He was convicted in 2012 and received his sentence of 38 years on February 21, 2013.
Peterson is currently incarcerated at the Menard Correctional Center in Chester, Illinois. Including a 4-year credit for time served, Peterson's earliest possible release date is February 21, 2047 when he will be 93 years old. He maintains his innocence.
On February 9, 2015, the Illinois Attorney General announced that Peterson will be charged with two felonies, for solicitation of murder and solicitation of murder for hire, for attempting to have Will County State's Attorney James Glasgow killed.[1]
Early life and military service
In 1972, Peterson graduated from Willowbrook High School in Villa Park, Illinois, where he ran cross country. He joined the US Army after graduation and briefly attended the College of DuPage in 1974 before moving to Falls Church, Virginia to train as a military police officer.[2]
Law enforcement career
Peterson had a 30-year career as a police officer. He began working with the Bolingbrook Police Department in Illinois in 1977.[2] In 1978, he was assigned to the Metropolitan Area Narcotics Squad, and in 1979, he received a "Police Officer of the Year" award from the department.[2]
Marriages
Carol Brown
Drew Peterson and Carol (Hamilton) Brown met in high school in Villa Park, Illinois, and together attended his senior prom.[2][3] They married in 1974, but divorced in 1980, after Brown learned about his infidelity.[4] Together they had sons Stephen Paul Peterson (1980) and Eric Drew Peterson.[5]
Victoria Connolly
Peterson married his second wife, Victoria (Rutkiewicz) Connolly, in 1982.[3] Connolly alleged a history of abuse during her 10-year marriage to Peterson,[6] as has her daughter, who lived in the household from the age of 8 to the age of 17. She divorced Peterson after he started dating Kathleen Savio.[3] Their divorce was finalized on February 18, 1992. Peterson married Savio two months later.[2] In 2007, Connolly stated that Peterson "was a legend in his own mind".[3]
Kathleen Savio
Peterson married Kathleen Savio (born June 13, 1963) on May 3, 1992.[7] Together they had two sons, Thomas (January 5, 1993)[8][9]and Kristopher (August 8, 1994).[10] Their divorce was finalized on October 10, 2003.[2] It was reported that between 2002 and 2004, police were called out to the Peterson house 18 times on domestic disturbance calls, including calls for returning children late after visitation.[11] On March 1, 2004,[12] Kathleen Savio's body was found in a waterless bathtub. Her death was initially ruled an accidental drowning by a coroner's jury that included a police officer who personally knew Peterson and assured the other jurors that Peterson was 'a good man who would never hurt his wife.'[13]
However, following Stacy Peterson's later disappearance, Savio's body was exhumed and underwent forensic examination on November 16, 2007.[14] Dr. Michael Baden, a former New York City chief medical examiner who conducted the examination at the request of Savio's relatives and Fox News, concluded that she died of drowning following a struggle when her body was placed in the bathtub. The results of the official autopsy ordered by the county have yet to be released to the public.[15] Will County, Illinois State's Attorney James Glasgow told the press that after examining evidence in the case, he believed that the death was a "homicide staged to look like an accident."[15][16] On February 21, 2008, Glasgow announced that a pathologist determined that Savio's death was a homicide,[17] adding that the death had been investigated as such since reopening the case following the exhumation.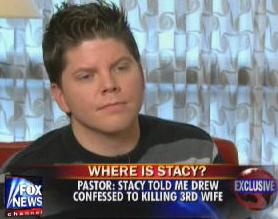 Reverend Neil Schori, a pastor at Stacy Peterson's church, reported that Stacy had told him that Drew had killed Kathleen Savio and had made it look like an accident and that she was afraid of her husband.[18] Stacy had provided Drew's alibi for his whereabouts on the evening on which Kathleen Savio died. The trial of Drew Peterson, proceeding in July 2012, was jeopardized when prosecutors attempted to introduce evidence that was not allowed. The Chicago Tribune reported about nine p.m. that the judge would rule on a mistrial on August 2, 2012.[19]
On August 15, 2012, Peterson told a judge that he wanted to withdraw a request for a mistrial. His lawyers said that he wanted the current jury to decide if he killed his third wife.[20]
On September 6, 2012, Peterson was convicted of killing Savio.[21] On February 21, 2013, Peterson was denied a mistrial and sentenced to 38 years in prison.[22]
Stacy Ann Cales
Peterson married Stacy Ann Cales (born January 20, 1984) on October 18, 2003, and she subsequently took the married name, Stacy Peterson.[2] Together they have two children, a son Anthony (2003)[23] and a daughter Lacy (2005).[24] She disappeared on October 28, 2007. Stacy Peterson was officially reported missing in the early hours of October 29, 2007, after her sister, Cassandra Cales, failed to hear from her when expected. Drew Peterson claims that Stacy called him at nine p.m. on Sunday to tell him that she had left him for another man and that she had left her car at Bolingbrook's Clow International Airport.
The last known recorded words from Stacy Peterson were left on a voicemail on her father's answering machine on October 17 at 12:37 p.m., 11 days before she disappeared. The message said, "Hey dad! It's me, Stacy, I just wanted to call you and tell you I love you. I also wanted to give you my new phone number. Okay, love you."[25][26]
Legal trouble
2007 disappearance of Stacy Peterson
Several leads were followed in the investigation by Illinois State Police, with FBI involvement. Four search warrants were issued and carried out on Peterson's property following Stacy's disappearance, including the seizure of his firearms and both his and Stacy's vehicles.
Following the mysterious disappearance of Stacy on October 28, 2007, Peterson announced his plans to retire as a Bolingbrook police sergeant effective December 2007. On November 15, 2007, the Bolingbrook Police Pension Board voted to allow Peterson to collect his pension of $6,067.71 per month,[27] stating current law gave them no option, as Peterson had not been convicted of a crime.[6]
Rick Mims, Peterson's long-time friend, admitted that Drew Peterson and Mims bought three blue containers from a cable company where they both worked part-time in 2003, and provided photos of these containers to police. Mims also sold his story to the tabloids for an undisclosed sum of money. Peterson's stepbrother, Thomas Morphey, who has a history of drug and alcohol addiction, attempted suicide two days after allegedly helping Drew carry a large blue plastic container from Peterson's Bolingbrook home to his sport utility vehicle, fearing he may have helped dispose of the body of Stacy Peterson. Neighbors reported seeing Peterson and another man hauling a 55-gallon barrel, large enough to hold a person, out of the house shortly after Stacy's disappearance. Cassandra Cales, Stacy's sister, said she wanted Drew Peterson to take a lie detector test about his knowledge of a blue barrel or container that she said she saw in their garage two days before Stacy disappeared. Joel Brodsky, Peterson's attorney, denied that any container was missing from Peterson's home. There were also reports of truckers referring to the containers, but their stories were treated as not credible after it was discovered that they had not been in the Bolingbrook area at the times they claimed.[18][28][29][30][31][32]
April 2008 appearance on Larry King Live
Drew Peterson appeared on Larry King Live on April 11, 2008. His lawyer was present as an adviser regarding which questions Peterson should answer.[33] The interview reran on May 9, 2009, two days after Peterson's arrest. Peterson also has made guest appearances (including one from county jail) on radio station WLS with Mancow Muller.[34] After the appearance on WLS, Will County Judge Stephen White severely limited Peterson's access to the media.
2008 engagement to Christina Raines
In December 2008, Drew Peterson's publicist Glenn Selig confirmed that Peterson was engaged to a 23-year-old, Christina Raines; she would have been his fifth wife.[35] On January 30, 2009, it was made public that Raines had moved out of Peterson's house. Her father, Ernie Raines, had issued an ultimatum, forcing her to choose between him and Peterson. Raines had issued the ultimatum to his daughter because he was concerned about the way Peterson tried to control Christina and was also scared that she would disappear just as Stacy had.[36] Raines moved out of Peterson's home "when she came to her senses", calling the engagement a publicity stunt designed to keep Peterson in the media spotlight.[37]
2009 indictment over Savio murder
On May 7, 2009, Peterson was indicted[38] by the Will County Grand Jury and arrested for the murder of his third wife, Kathleen Savio.[26] Bail was set at $20 million.[26][39]
In October 2009, Peterson sued JP Morgan Chase for revoking a home-equity credit line that he wanted to use to pay legal expenses. His income of "nearly $109,000 per year" was not sufficient.[40] In July 2010, Judge Stephen White ruled that Peterson would remain in the Will County Jail for the remainder of his trial and appeals process.[41] Prosecutors argued he could pose a danger if released.
On July 21, 2010, it was revealed that hearsay statements indicating Drew Peterson killed two of his wives are not reliable enough for a jury to hear at his trial. After presiding over a lengthy hearsay hearing, Judge Stephen White issued a four-page sealed ruling in May obtained by the Daily Herald. White ruled that prosecutors proved Peterson killed both Kathleen Savio and Stacy Peterson "by a preponderance of the evidence," but nearly all statements attributed to Stacy Peterson "do not provide sufficient safeguards of reliability." (The standard of proof in homicide cases is "beyond a reasonable doubt"; "preponderance of the evidence" is the standard for fact-finding on questions of admissibility of evidence, even in a criminal case.) Stacy Peterson's statements were crucial to the prosecution's case, as it lacked significant direct evidence.[42]
In April 2012, a ruling was made in the murder case of Kathleen Savio.[43] An Illinois appellate court ruled that prosecutors could use eight statements made by both the victim prior to her death and by Peterson's still-missing fourth wife Stacy prior to her disappearance. The ruling reversed Judge Stephen White's earlier decision. Drew Peterson's defense had contended that introduction of these alleged hearsay comments would constitute a violation of the defendant's Sixth Amendment right to confront any witnesses testifying against him.
The prosecution was helped by the passage of a new Illinois law, 725 ILCS 5/115-10.6, that became known as "Drew's Law", which allows prosecutors to enter hearsay statements into evidence under certain conditions. Passed while investigators were looking for Stacy Peterson, the legislation permits courts to consider statements from "unavailable witnesses," provided that prosecutors can prove that the witness was killed to prevent his or her testimony and that the hearsay statements are reliable.
On August 22, 2012, Jeff Pachter, a witness at Peterson's murder trial, said Peterson offered him $25,000 to hire someone to kill Savio and told him it would be a secret he would take to his grave.[44]
Verdict
On September 6, 2012, Drew Peterson was found guilty of the premeditated murder of Kathleen Savio.[21] Jurors admitted that the most compelling evidence was based on the hearsay statements allowed under "Drew's Law".[45] On February 21, 2013, Judge Edward Burmila refused to grant Peterson a new trial.[46]
Sentencing
On February 21, 2013, Peterson was sentenced to 38 years in prison for the murder of his third wife[47] and was transferred to Stateville Correctional Center the next morning[48] where he was processed and then moved to Pontiac Correctional Center where he was inmate M35067.[49] He is currently incarcerated at Menard Correctional Center.
And playing
Jonathan Vincent "Jon" Voight (/vɔɪt/; born December 29, 1938) is an American actor. He has won one Academy Award, out of four nominations, and four Golden Globe Awards, out of ten nominations. He is the father of actress Angelina Jolie and actor James Haven.
Voight came to prominence in the late 1960s with his performance as a would-be gigolo in Midnight Cowboy (1969). During the 1970s, he became a Hollywood star with his portrayals of a businessman mixed up with murder in Deliverance (1972), a paraplegic Vietnam veteran in Coming Home (1978), for which he won an Academy Award for Best Actor, and a penniless ex-boxing champion in the remake of The Champ (1979).
Although his output slowed during the 1980s, Voight received critical acclaim for his performance as a ruthless bank robber in Runaway Train (1985). During the 1990s, he most notably starred as an unscrupulous showman attorney in The Rainmaker (1997). Voight gave critically acclaimed biographical performances during the 2000s, appearing as sportscaster Howard Cosell in Ali (2001), as Nazi officer Jürgen Stroop in Uprising (2001), and as Pope John Paul II in the eponymous miniseries (2005). Voight also appears in Showtime's Ray Donovan TV series as Mickey Donovan.