In Facebook Jail AGAIN!
4 min read
Facebook Jail might not be as bad as real jail but it can effect your bank account just the same if not more.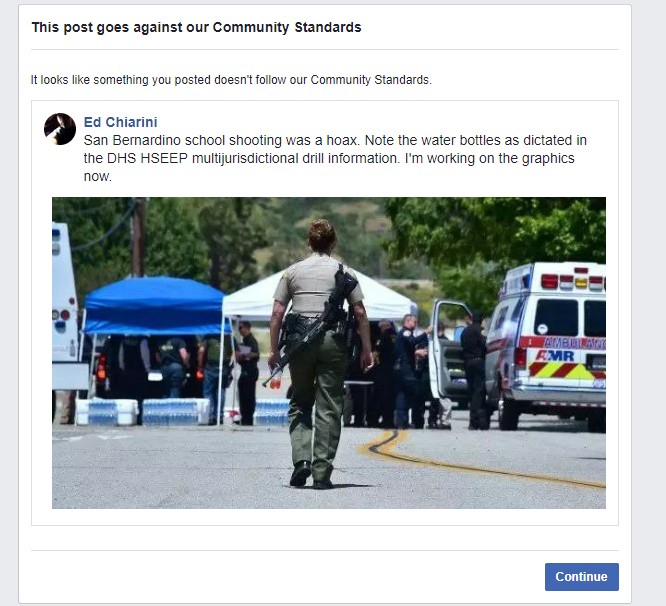 For those of you who haven't experienced being punished by Facebook, it's and experience that is frustrating and borderline criminal in some aspects.  Allow me to explain, in hopes that Facebook will see this story and correct their error.  Because to appeal their verdict through their own online submission form (For me at least) doesn't work.
Yep the form doesn't let you submit your appeal, at least in my situation it doesn't.  So I have no way of communicating with them to let them know that their action is unjustified, and as I will explain here, possibly criminal.
So what did I do that cause my 30 day incarceration?  This is not the first time remember?  I just got out of Facebook Jail then two days later I'm back in but not for something I just posted Nooooo
It's an image from this story...
San Bernardino School Shooting: Man Kills Wife Then Himself; 1 of 2 Students Wounded Has Died
So Facebook puts me in jail then lets me out only to put me back in for an image that is from APRIL 10, 2017.
So let me guess, the minute they let me out they will find yet another OLD image to put me back in with?  Yeah I see how they want to play, but fortunately for me I have some pull over at facebook.
A long time ago when facebook went IPO their CEO Mark Zuckerberg was arrested in Arizona.  But wait you don't remember this?  Of course you don't because he was arrested under his real name Jacob Michael Greenberg.  So the character he plays as Mark Zuckerberg technically never got arrested, so they don't have to report it to the SEC.  It's legal in the US to use a pseudonym but not legal to not report an arrest to the SEC during your IPO period.  He's not legally bound to release or report this arrest to anyone. Good thing I found his mug shot and did it for him.
When I filed the whistleblower papers on him the following day their corporate lawyers filed immediately that the SEC filings be sealed from public view for a certain period of time.  You might ask why would they jump so quick?  It's because if you notice his birthdate in the arrest record you might wonder how he was in Harvard when they claim he invented Facebook because he would have been too young to have attended.
That becomes a major issue considering they have to file all the information about the CEO and executive staff with the SEC before they IPO. All that information has to be absolutely correct or their IPO could be delayed or possibly terminated depending upon the severity of the discrepancy.
Now back to my current situation...
Any act Facebook takes against my account can be viewed as retaliation, which is a criminal offence.
So just after I filed that federal document they tried to shut my account down.  I quickly contacted their legal team (of course I cant do that this time because Im being blocked from their site unlike before where my account was just taken down but I could still communicate with them)  I informed them that their actions violated the Retaliation laws and I would be talking to my lawyer about exercising my right to file a civil lawsuit on them and possibly get the DA to file criminal procedures.  They responded within a day apologising for their "Oversight" and quickly reinstated my personal account.
I get the feeling I'm going to have to remind them again they are making an "Oversight" but can't communicate with them because their appeals form is broken.  But wait it gets worse for them...
Back when they punished me the first time I only had a personal page.  Today I have several pages that are not personal but are related to my business.  Since I'm in jail for my personal postings they automatically stop you from all communications on all the sites you own.  Even the ones that have nothing to do with your personal life.
That's where we have a big problem.  They are causing me monetary damages by stopping my others pages.  This I will not allow to be swept under the rug.  THey are directly stopping me from taking part in commerce, and we all know when you bring up that word their lawyers begin to shake, almost as much as when you mention grievance letters filed to the BAR.
So I would hope someone will forwarded this story to the proper people at Facebook, I would really hate to file a suit on them for damages.  Well not really, I probably would enjoy it a little.
And if you're wondering what I did to get thrown in jail the first time well here you go.
Yep he complained and said I was bullying.
How about him acting like a domestic Terrorists and forcing his political views on the world via his part in the fearmongering DHS is behind?
I might have to write another story about their HSEEP program again.  Don't know what that is?  Search for it on their web site http://dhs.gov