The DallasgoldBUG That Made Mark Zuckerberg Quit Facebook
8 min read
<p>Dallasgoldbug, the REAL BUG that forced Mark Zuckerberg (AKA Jacob Michael Greenberg) to quit facebook!</p>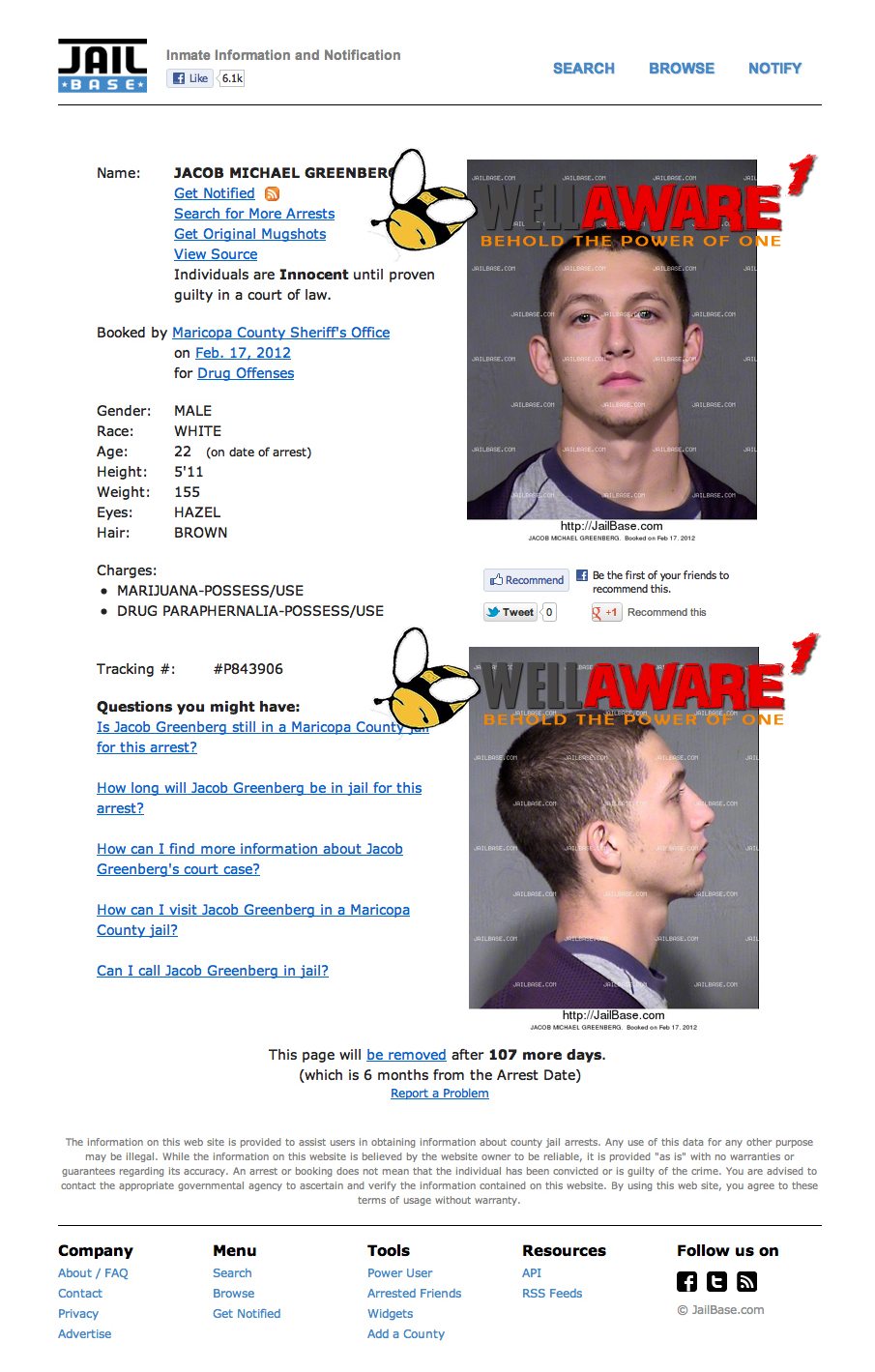 So we see the story now that mark Zuckerberg is quitting his job at facebook, and the reason he is leaving is due to a bug forcing him.  I argue that bug is me DallasGoldbug.  I'm the one that exposed him for being an actor and a Greenberg family member.  his real name is Jacob Michael Greenberg, we know this because I was the one that found his arrest record in Maricopa County for possession of a controlled substance and paraphernalia.  that arrests took place in Maricopa county where his uncle is a sheriff, Sheriff ARPAIO.
You might ask why is that important?  It becomes very important because in this situation they actually crossed the line and broke the law.  You see on that arrest records you see his real birth date.  That date which we can believe is real since it's an official document, places Jacob at an age where he was far too young to be at Harvard when they claim he created the platform.  This information and story were fed to the potential investors in their IPO and lying about the creation of the company that is getting ready to make its public offering is a very serious violation of the SEC rules.  So we saw Facebook legal team jump into action the following day after I file whistleblower papers on Jake and them petitioned the courts to seal the information that pertaining to the IPO for many years.  
I guess they couldn't take it anymore and finally had to get Mark Out of there.
Update Jacob Michael Greenberg AKA Mark Zuckerberg
Published Jan 23, 2017
People have been asking me lately how I can maintain my Facebook account after I exposed Jacob nearly 5 years ago as being the actor that plays the role of Facebook CEO Mark Zuckerberg.  It's very simple if you are familiar with the work I have done or listened to me on the radio over the years since I have spoken about it numerous times.  Exposing Jake, who also uses the name Jake Becker on his site, was first published in the form of a whistleblower document that I registered with the SEC.  That action prompted them to quickly have a judge put their SEC filing for their IPO sealed until 2017.  You ask why they would do this?  It all boils down to this arrest.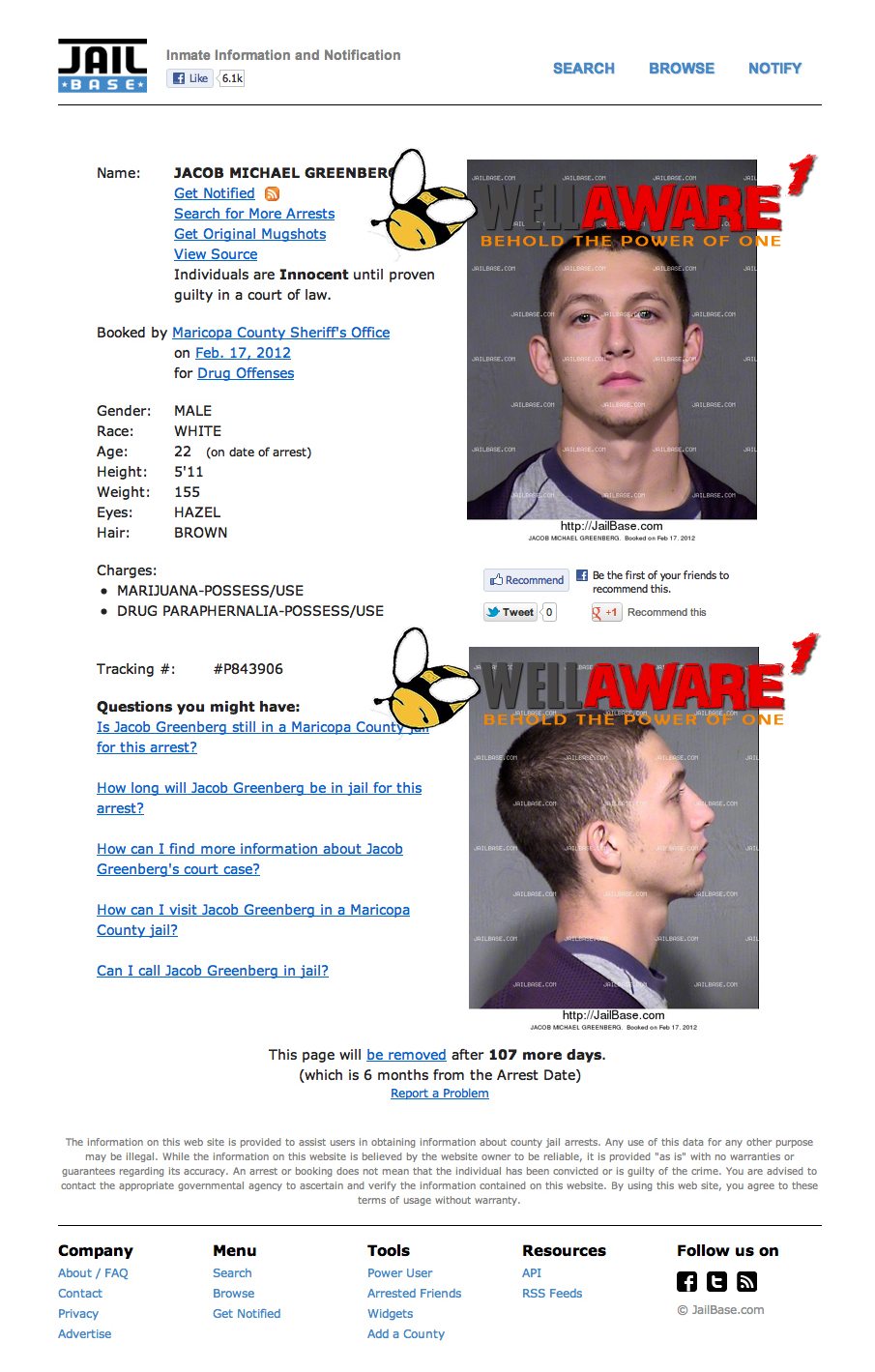 When I stumbled across this arrest while doing searched for the Greenberg family members (who I had been exposing for the past 6 years) I immediately recognized him as Mark and upon further examination and the use of ear biometric forensics was able to confirm This was Mark.  I also had family photos of him that I discovered in the over 5000 family photos I managed to grab from their family photo albums online which have been the foundation for my work.  Within those photos, you can see the family over the years having parties and family gatherings.  The people who are related to Jake and are all visible at a family bat mitzvah in Dallas Tx are names like Ross Perot, Warren Buffett, Christian Bale, Michael Greenberg The list goes on and on.
But here's where the problem begins for Facebook.  The arrest records show Jakes real age.  When you take that age and compare it to the age facebook provides on their SEC IPO documents you see the story of Mark being in Harvard when he created the platform now known as Facebook is impossible because he would have been too young.  That means they are lying to their investors about the true story of how facebook was created and you can see that it was not just some social media platform but an intelligence gathering tool the government has put in place and we the people have populated with our personal data handing it over to third party affiliates of that company.  This includes law enforcement agencies both domestic and foreign.
If you think that sounds far-fetched you can hear them tell you themselves in a document that was published by DHS on the topic of Web 2.0
https://www.oig.dhs.gov/assets/Mgmt/2013/OIG_13-115_Sep13.pdf
Here is the Executive Summary page From the Office of The Inspector General

Executive Summary
We audited the Department of Homeland Security's (DHS) efforts to implement Web 2.0 technology, also known as social media. The objective of our audit was to determine the effectiveness of DHS' and its components' use of Web 2.0 technologies to facilitate information sharing and enhance mission operations. The scope and methodology of this audit are discussed further in appendix A.

Although DHS prohibits social media access to employees using a government-issued electronic device or computer unless a waiver or exception is granted, the Department has steadily increased its use of various social media sites over the past 5 years. Specifically, the Department and each of its seven operational components have established accounts on commonly used social media sites, such as Twitter, Facebook, blog sites, and YouTube, for outreach purposes. Public affairs employees have had wide success using these sites to share information and conduct public outreach efforts. These initiatives were effectively managed and administered by Department and component level public affairs offices. In addition, component public affairs offices have implemented policies and procedures to provide guidance to employees.

DHS and its operational components have recognized the value of using social media to gain situational awareness and support mission operations, including law enforcement and intelligence-gathering efforts. However, additional oversight and guidance are needed to ensure that employees use technologies appropriately. In addition, improvements are needed for centralized oversight to ensure that leadership is aware of how social media are being used and for better coordination to share best practices. Until improvements are made, the Department is hindered in its ability to assess all the benefits and risks of using social media to support mission operations.

We are recommending that the Department communicate the process to gain access to social media; establish a list of approved social media accounts used throughout the Department; complete the Department-wide social media policy to provide legal, privacy, and information security guidelines for the approved uses of social media; ensure that components develop and implement social media policies; and establish a forum for the Department and its components to collaborate and make decisions on the use of social media tools
Do you still want to deny the fact that they are using their creation "SOCIAL MEDIA" as a tool to spy on you?  It says it right there in their own words.
Background
The Homeland Security Act of 2002 established the Department and its primary missions, which include preventing terrorist attacks within the United States; enforcing and administering the immigration laws of the United States- securing the nation's borders- and ensuring the nation's resilience to disasters. To support its mission operations, DHS relies on a vast array of information technology, including Internetbased services using Web 2.0 technologies.

Web 2.0 technologies, the second generation of the World Wide Web, provide a platform for Web-based communities of interest, collaboration, and interactive services. These technologies include Web logs, known as blogs, which allow individuals to post and respond to information. Additionally, Web 2.0 technologies include third-party social media websites that allow individuals or groups to create, organize, edit, comment on, and share information. DHS has defined social media as websites, applications, and Web-based tools that connect users to engage in dialogue, share information, collaborate, and interact.1

Social media take many different forms, including Web-based communities, social networking sites, and video and photo sharing sites. Some commonly known social media providers include Facebook, Twitter, and YouTube.

Facebook is a social media website that allows users to create personal profiles and to locate and connect with other Facebook users. Users can also establish a page to represent a business, public figure, or organization. These pages are used to disseminate information and provide users a structure to post their responses. In September 2012, Facebook reportedly had more than 1 billion active users.

Twitter is a social networking site that allows users to share and receive information through short messages limited to 140 characters in length, known as "tweets." Twitter users can establish accounts, post messages to their profile page, and reply to other users' tweets. In December 2012, Twitter reported having 200 million registered accounts.

YouTube is a video-sharing site that allows users to watch, add, comment on, and share videos. Users can establish accounts on YouTube by providing a small amount of personal information. More than 800 million unique users visit the site, and more than 4 billion hours of video are watched each month.

---

1 Department of Homeland Security Instruction 110-01-001, Privacy Policy for Operational Use of Social Media, June 8, 2012
But back to my Facebook situation.
Since I filed whistleblower papers on Mark, That automatically protects me.  Any attempt to damage my accounts would be considered the criminal offense of Retaliation.  And really why would they want to take my page down when they use it to keep tabs on me.
But since I know that I make sure to send them as much bogus information as I do legit.
NEVER use the option to log into websites by using your Google or Facebook login.  You automatically are giving them your location and other information you should be keeping out of their hands.
And a side note 
Liz Harmon's daughter Riley

Another person who was at the same bat mitzvah as Jake was cousin David Hoffman.  You might know him better as Snowden from the NSA hoax stories.
As you can see, by marriage David is the nephew of David Rockefeller Jr.  Jake is David Rockefellers relative by blood.
Hoffman's mother at the party  far right 
34  3
This information was originally released by me many years ago.  Since then many opposition sites have stolen that information and attempted to mislead the public by including things that they know are not accurate.  That's why it's so important for you to always refer to this site when you are trying to validate the facts.  There are many imitators of wellaware1.com but only one Wellaware1.com
Become a member and you get the information First.