Saudi Prince Alwaleed Bin Talal is played by Harvey Keitel
4 min read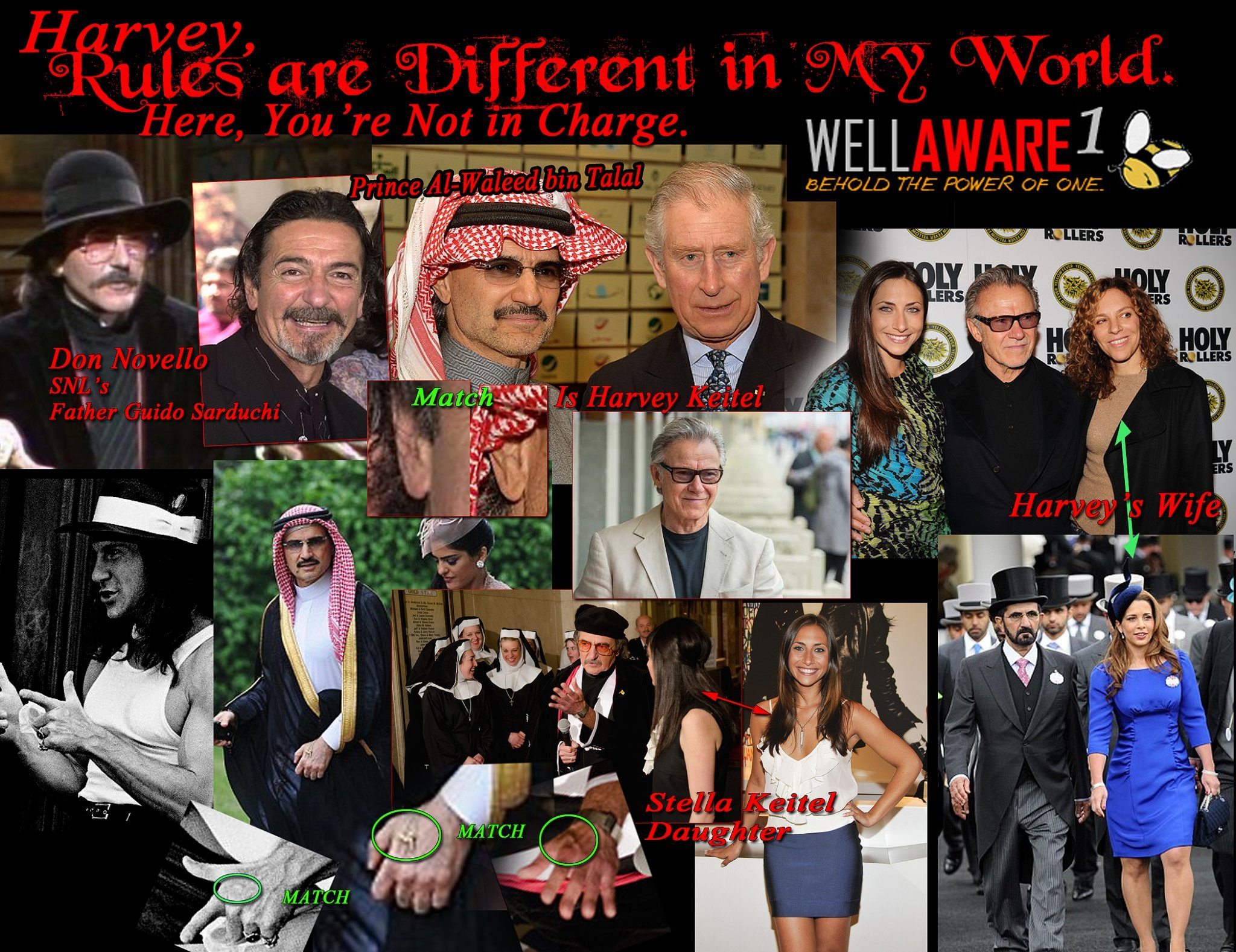 Or is it the other way around?  What we know for sure is that the same actor plays both roles and we don't yet know the real identity of the scumbag.
Prince Alwaleed Bin Talal is 95% owner of Kingdom Holding Company.  The central figure behind KHC, one of the world's unrivalled international holding companies, is His Royal Highness Prince Alwaleed Bin Talal Bin Abdul-Aziz Alsaud of Saudi Arabia. Named twice by Forbes Magazine as one of the world's most intelligent and creative investors, Prince Alwaleed sets the agenda for KHC's world operations, providing a guiding vision which has seen remarkable success and worldwide recognition.
The grandson of two of the Arab world's most celebrated figures – King Abdul-Aziz Alsaud, founder and first ruler of Saudi Arabia and HE. Riad El Solh, iconic statesman in Lebanon's drive for independence – Prince Alwaleed has always been inspired by the uncommon achievements of his family line.
In addition to the Prince's business interests, HRH funds a series of highly respected charitable foundations aimed at affecting social change and providing relief and opportunities to those in need. In recognition for this important contribution, Prince Alwaleed has been the recipient of many honors and accolades from esteemed organizations, societies, monarchs and heads of state worldwide.
In 1979, Prince Alwaleed formed his own company, Kingdom Establishment for Commerce and Trade – the company that would, in 1996, become KHC. Having completed his first major deal, Prince Alwaleed chose to invest the profits into Riyadh real estate – a shrewd decision that, in many ways, proved to be the foundation KHC's success.
While analyzing other opportunities for potential value, Prince Alwaleed began to investigate the Saudi banking sector. In 1988, the company acquired a controlling stake in the ailing United Saudi Commercial Bank (USCB). With a change in management and the Prince's guidance, USCB's fortunes were rapidly transformed, becoming the most profitable Saudi Arabian commercial bank in just one year. With stocks in USCB having multiplied twenty-fold, the Prince negotiated a merger with the struggling Saudi Cairo Bank to create the United Saudi Bank (USB). Prince Alwaleed then began to view the dominant Saudi American Bank (SAMBA) as a source of managerial strength and leadership that could add real value to USB. In 1999, the merger was completed, forming one of the largest banking groups in the region.
In the early 1990s it was almost unthinkable that a Saudi Arabian, and a Royal at that, would burst onto the global banking investment scene from seemingly nowhere – but in 1991 that is exactly what happened. Effecting a significant coup that would catapult him into the global spotlight, HRH invested heavily in Citibank (subsequently Citigroup) stocks in a bold move that surprised many. That surprise rapidly turned into admiration as the Prince's guidance helped restore the banking giant to full health, returning it to its place as the world's leading financial institution. Prince Alwaleed's investment in Citigroup has since delivered an extraordinary level of return, and represents the largest proportion of HRH's personal wealth.
Whilst the banking sector is an important part of Prince Alwaleed's long-term investment strategy, KHC is always looking to expand his operations to other markets. Accordingly, KHC has acquired substantial interests in other sectors including hotels, real estate, media, broadcasting, entertainment, information technology, communications, fashion retail, supermarkets, health and education.
He is a member of the Saudi royal family. Waleed was listed as one of Time magazine's Time 100, an annual list of the hundred most influential people in the world in 2008. Waleed is a nephew of the late Saudi King Abdullah, a grandson ofIbn Saud, the first Saudi king, and a grandson of Riad Al Solh, Lebanon's first Prime Minister.
Al-Waleed is the founder, the chief executive officerand 95 percent-owner of the Kingdom Holding Company, a Forbes Global 2000 company with investments in companies within various sectors such as banking and financial services, hotels and hotel management companies, mass media, entertainment, retail, agriculture, petrochemicals, aviation, technology, and real estate. The company has market cap of over $18 billion in 2013. Waleed is also Citigroup's largest individual shareholder, the second-largest voting shareholder in News Corporation, he owns Paris's Four Seasons Hotel George Vand part of Plaza Hotel. His business acumen and shrewd entrepreneurial prowess have earned him comparisons to American investor and business magnate Warren Buffett. Due to his prominence as a businessman, he was acknowledged by Time, who labeled the Prince as the "Arabian Warren Buffett."
In March 2013, Forbes listed Al-Waleed as the 26th-richest man in the world, with an estimated net worth of US$20 billion. Al-Waleed disputes the Forbes valuation and believes his wealth to be $26 billion. Bloomberg later estimated his wealth as $30 billion. In December 2013, Arabian Business estimated his wealth at $31.2 billion, while it also ranked him as the most influential Arab in the world.