Thanks Cosmopolitan.com
6 min read
<p><img class="alignnone wp-image-43053 size-thumbnail" src="http://wellaware1.com/wp-content/uploads/2016/04/ted-cruze-2-150x150.jpg" alt="ted-cruze-2" width="150" height="150" /></p> <p><img class="alignnone wp-image-43051 size-thumbnail" src="http://wellaware1.com/wp-content/uploads/2016/04/tedcruz-exposed-150x150.jpg" alt="tedcruz-exposed" width="150" height="150" /></p>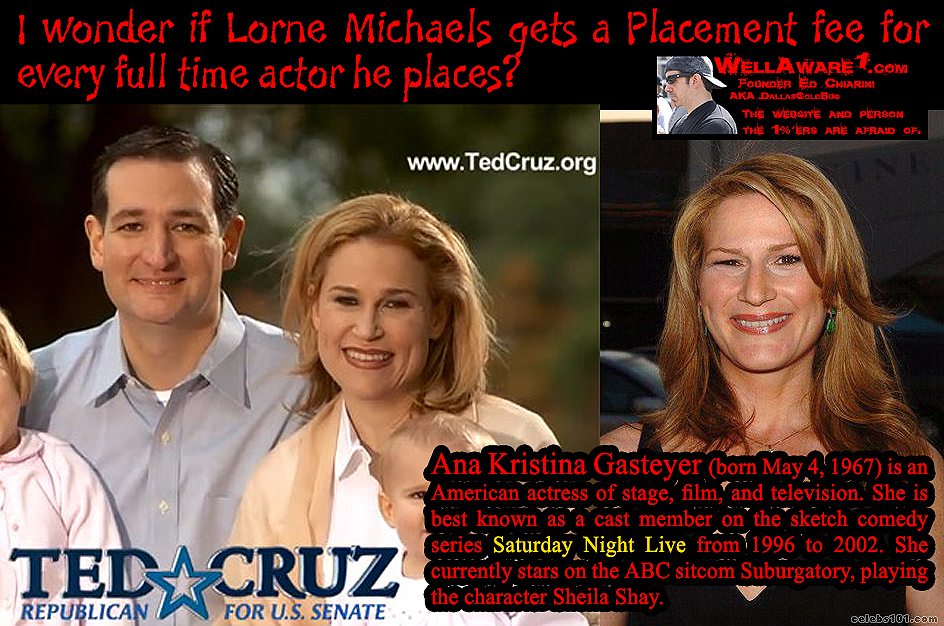 Well, I only made it to number 3  but I appreciate the mention even though they didn't provide any images of the evidence, so I guess I'll have to do that for them.  But before we do that let me preface this by saying if we want to be accurate in the description of my work it is not a "Conspiracy."  There is no crime being committed here.  It is morally reprehensible I'll give you that but still not a crime.
Our elected officials use pseudonym/stage names that are not even registered to their person.  To make matters worse, they can have a third person vouch for their identity on their Oath of Candidacy form which means you never have to show any kind of ID to run for office.  Don't believe me?  Ask your lawyer.
Here is a video I put together telling you more about the loophole that needs to be addressed if we want to get our country back in the hands of the people, not corporations.
The evidence is after the article.
---
http://www.cosmopolitan.com/entertainment/celebs/news/a56397/kardashian-conspiracy-theories/
9 of the Craziest Kardashian Conspiracy Theories
1. Khloé is O.J. Simpson's daughter.
As The People v. O.J. Simpson has reminded everyone, Robert Kardashian was one of O.J.'s defense attorneys, and Kris Jenner was close friends with both O.J. and Nicole Brown Simpson (she even told People that they were "two of the best friends I ever had in my entire life"). Because men and women can never be friends, people naturally assumed that Khloé was the product of an affair between O.J. and Kris. "Proof" includes Khloé being taller than her sisters and side-by-side photos comparing her to O.J.'s daughter, Sydney. Kris had the other kids take a DNA test on a 2012 episode of Keeping Up With the Kardashians, but Khloé did not participate. She's since taken the rumor in stride and joked about it on Chelsea Lately, saying, "I really hope that's not the case because I did fuck him once."
2. Kourtney's rumored hookup with Justin Bieber wasn't real.
Back in December, rumors started flying that Kourtney and Bieber were hooking up. This was based in part on a photo Instagrammed by Justin with the caption "Lord knows," which people took to be a dig at Scott Disick (who calls himself Lord Disick). Eager to explain the weird relationship, Internet sleuths began theorizing that it was (1) a prank, (2) a Purpose publicity stunt, (3) a revenge ploy by Kourtney, (4) a troll move designed to make Selena Gomez jealous, or (5) proof that Justin Bieber was going to guest star on KUWTK.
3. Ted Cruz is Robert Kardashian.
Despite the fact that Robert Kardashian died from esophageal cancer in 2003, at least one person believes he actually faked his death and became Ted Cruz. Yes, that Ted Cruz. According to Ed Chiarini of WellAware1.com, Kardashian has been living as "Cruz" for the past decade, a theory that seems to be based on nothing other than the fact that maybe if you squint they kind of look alike. Also, Heidi Cruz is actually Ana Gasteyer. Does your head hurt?
4. Kim faked her second pregnancy.
When Kim didn't start to show as quickly as she did during her pregnancy with North, Internet commenters began accusing her of faking it (see also: Beyoncé). Kim shut it down with a series of tweets and a naked, bump-displaying selfie. Later, "a source close to the family," told Radar Online that Kim may have been "exaggerating" the difficulties of her pregnancy.
5. The family is part of the Illuminati, who caused Lamar Odom's overdose and coma.
You already knew the Kardashian-Jenners were Illuminati, right? Old news. According to this theorist, Lamar knew about the family's involvement with the Illuminati and was tired of hiding the truth, so the Illuminati found out and had him "taken care of." Once he learned his lesson, they "let him live by giving him a secret serum that cures all ailments."
6. The chaotic lead-up to The Life of Pablo was a marketing ploy, possibly orchestrated by the Kardashians.
A commenter on a Kanye forum suggests that the rapper is just playing a character. The fight between Kanye West and Wiz Khalifa was faked so both artists could get some free publicity. According to this theory, Kanye only pretended that Waves was the album title so Wiz would question it. Basically, all the drama was a lie perpetrated by a man who married into a family of marketing geniuses that know how to get attention despite being hated.
7. One member of the family wants to come out as gay or bisexual.
According to Blind Gossip, the Kardashian-Jenner family is "pressuring one of the family to keep quiet about their sexual orientation." The site doesn't suggest who (or provide evidence to support this claim), but a large comment section certainly has ideas.
8. Kris Jenner planned the sale of Kim's sex tape.
Remember how Kim first skyrocketed to fame? This theory suggests that it's all thanks to her mom. In 2012, a source told Star magazine that Kris helped arrange the sale of the 2007 Ray J sex tape: "The video already existed, and Kris was there every step of the way as a middleman brought in to market it to an adult entertainment company." Kris was allegedly delighted at the tape's name — Kim Kardashian, Superstar — and supposedly got a payout of up to $500,000 on the sale.
9. Kim's marriage to Kris Humphries was a hoax.
One source said that Kim's short-lived union with the NBA player was "an arranged marriage right from the start" and that Kris was "selected" for Kim so they could have a wedding for ratings. Jonathan Jaxson, a former friend of Kim's, believed the couple actually dated, but that the wedding wasn't totally real. Wetpaint also reported that E! approached another NBA player before Kim started dating Kris, which further suggests that the whole thing wasn't totally real.
Follow Robyn on Twitter.
Here is the evidence that they do not want you to pay attention to.
Related links
http://wellaware1.com/megyn-kelly-is-nichole-brown-simpson-proof-via-hand-vein-biometrics/ http://wellaware1.com/megyn-kelly-nichole-brown-simpson/ http://wellaware1.com/cruz_snl_wife/
http://wellaware1.com/government_contacts/
http://wellaware1.com/shills-n-liars-snl/

Is this a relative we should know about since it would make sense for Ted to call for increased military spending.
So any way you look at it whether or not you believe what I say you cannot deny the biometric evidence.  Feel free to do the evaluations on your own and remember when in doubt, check the spouse because that is where you find the validation for what I am presenting.
More about my work.
https://www.youtube.com/watch?v=kArCnfHA8CQ
https://www.youtube.com/watch?v=BvHmCZeQ09Q