On March 16, 2016, President Barack Obama nominated Garland to serve as an Associate Justice of the Supreme Court, to fill the vacancy created by the death of Antonin Scalia. To date, the Senate has not held a hearing or vote on the nomination; the refusal of Senate Republicans to consider the nomination has been a source of controversy.[2]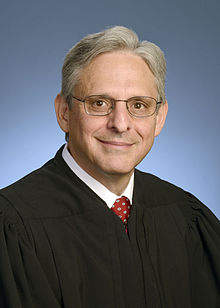 Merrick Brian Garland (born November 13, 1952) is the chief judge of the United States Court of Appeals for the District of Columbia Circuit. He has served on that court since 1997.
A native of the Chicago area, Garland graduated summa cum laude as valedictorian from Harvard College and graduated magna cum laude from Harvard Law School. After serving as a law clerk to Judge Henry J. Friendly of the U.S. Court of Appeals for the Second Circuit and Justice William J. Brennan, Jr. of the Supreme Court of the United States, he practiced corporate litigation at Arnold & Porter and worked as a federal prosecutor in the U.S. Department of Justice, where he played a leading role in the investigation and prosecution of the Oklahoma City bombers.
Merrick Brian Garland was born on November 13, 1952 in Chicago, Illinois.[3] He was raised in the Chicago area,[4] in the northern suburb of Lincolnwood.[5]
Garland's mother Shirley (née Horwitz)[6] was a director of volunteer services at Chicago's Council for Jewish Elderly; his father, Cyril Garland, headed Garland Advertising, a small business run out of the family's home.[4][7][8] Born to a Jewish family, Garland was raised in Conservative Judaism.[8] His grandparents left the Pale of Settlement in the early 20th century, fleeing antisemitism and seeking a better life for their children in the United States.[8] Garland is a second cousin of Iowa Governor Terry Branstad.[9]
Judd Asher Nelson (born November 28, 1959) is an American actor, screenwriter, and producer. He is known for his roles as John Bender in The Breakfast Club, Alec Newbary in St. Elmo's Fire, Hot Rod and Rodimus Prime in The Transformers: The Movie andTransformers: Animated, Nick Peretti in New Jack City, Billy Beretti in Empire, and Jack Richmond in Suddenly Susan.[1][2]
You don't have to believe me all you have to do is look at his sisters to see they are the same as his so called spouse, daughter, and sister of Garland.  They create the sibling marriage in order to do two things.  1st, to leverage celebrity.  2nd, they can control the lie because no one's going to tell on their family member.
Bud and his wife are Texan's who I found associated with individuals I exposed in the JFK Assassination hoax.  That is the only photo I found of them and even though the quality is not perfect you can clearly see it's them.
Related Posts