Judith Clark UPDATE
Judy Clarke playing yet another role in the media as the fake mother of a fake missing girl.
Lauren Spierer (born January 17, 1991) is an American woman who disappeared on June 3, 2011, after a night of partying at a bar inBloomington, Indiana. At the time, she was a 20-year-old college student at Indiana University. Her disappearance generated national press coverage and remains unsolved.[3][4][5]
Lauren Spierer was born in January 1991 to Charlene and Robert Spierer, an accountant. She grew up in Scarsdale, New York, a town in lower Westchester County.[6][7][8] Spierer graduated from Edgemont High School in 2009 and enrolled at Indiana University studying textiles merchandising.[9][10]
Spierer was active in the Jewish community at IU and had spent the previous spring break planting trees in Israel on behalf of the Jewish National Fund.[11]
Spierer met her boyfriend Jesse Wolff and her friend Jay Rosenbaum years earlier at Camp Towanda, a summer camp in Pennsylvania. It was there that she also met various other future IU students who later became her circle of friends when she enrolled in that college, in 2009.[12][13]
On the night she disappeared, Spierer was partying with several male friends. Her boyfriend, Jesse Wolff, said he did not go out with Spierer or her friends that evening. He said he was texting back and forth with Spierer before going to bed.[14] According to witnesses, Spierer was very intoxicated.[12] Using video surveillance footage and witness statements, Bloomington police were able to create a timeline of Spierer's whereabouts before her disappearance.[15]
[fb_pe url="https://www.facebook.com/photo.php?fbid=10211056503153344&set=a.10207210499165648.1073741851.1378478661&type=3&theater" bottom="30″]
Judith Clark and the Weather Underground SCAM
Published on: Jun 21, 2015 @ 16:05
SHE'S NOT FOOLING ANYONE
Judith Alice "Judy" Clark was a radical political activist in the 1960s and '70s. She became a prominent member of the Weather Underground Organization and participated in much of its political agitation and criminal activities. Still pursued by police after the WUO's dissolution in the mid-1970s, Clark continued her course independently through the rest of the decade, working frequently with other radical and extremist groups including the Black Panthers and the Black Liberation Army. She was finally captured during the infamous Brink's robbery of 1981 in Nyack, New York. Unrepentant in the courtroom, she was sentenced to the maximum penalty allowed by law; she is currently serving a sentence of 75-years-to-life at the Bedford Hills Correctional Facility in New York.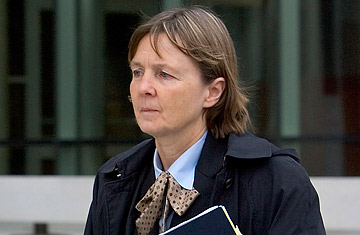 Judy Clare Clarke (born 1952) is an American criminal defense attorney who has represented several high-profile defendants. She has negotiated plea agreements that spare her clients the death penalty, as was the case for Eric Rudolph, Ted Kaczynski, and Jared Lee Loughner. In the case of Susan Smith, Clarke argued to the jury that ultimately voted against imposing the death penalty.
Raised in Asheville, North Carolina, Clarke is a graduate of Furman University and University of South Carolina School of Law. Clarke served as executive director of the Federal Defenders of San Diego, Inc. (FDSDI) and the Federal Defenders of the Eastern District of Washington and Idaho. From 1996 to 1997, she served as President of the National Association of Criminal Defense Lawyers.
Quick Change of identity and start all over again.
http://republicbroadcasting.org/in-defense-of-humanity-with-ingri-cassel-and-al-whitney/
In Defense of Humanity with Ingri Cassel and Al Whitney
Email:
Ingri: [email protected]
Al: [email protected]
THE SHOW
This radio show In Defense of Humanity is about helping people re-awaken to the wondrous and endearing qualities of our own species, while understanding that the current corporate legal-structure, that both government and business is built upon, plans to take control of most organic life forms on our planet.
The federal government became a corporation when Congress passed the Act of 1871. The government-corporation has been growing ever since. The number one goal of all corporations is profit. Preserving and nurturing life are anathema to the corporate model of business.
"Corporate governments are a usurpation of the organic American Constitution …. "
From retired Judge Dale's book, The Great American Adventure – Judge Says USA INC is Just a Corporate Franchise Network
To restore our government to its proper role will require the people to understand what has happened and how to empower themselves as living men and women. Dead legal-fictions known as Corporations CANNOT be allowed to control our country or our planet. CORPORATIONS are not real; they are merely fictions on a piece of paper. People have to wake up to this reality and put an end to this travesty. The show will explore the development of other business models that support life on our planet.
To understand the importance of this show and why we must act now, read Silent Weapons for Quiet Wars and NASA's 2001 power point: The Future of Wars.
Humanity must understand that we are under attack and it is time to start enthusiastically defending ourselves.
THE HOST
Ingri Cassel
Ingri Cassel is the director of Vaccination Liberation, a national grassroots association dedicated to providing difficult to access information on vaccinations so that one can make the only truly informed choice, complete avoidance and refusal. Vaccination Liberation is an all volunteer association that was founded in 1998. You can visit their websites at www.VaccineTruth.com, www.VaccineTruth.net andwww.VacLib.org
Al Whitney
Al Whitney lives in Central Ohio. She has a diverse background which includes health care, environmentalism, and community viability. She was a Respiratory Therapist for many years and is married to a retired physician.
In 2009, AL founded For Ohioans (now Parents Against Mandatory Vaccines) as a response to the bogus swine flu pandemic. Her research led her to discover that our so-called government is really a franchised network of corporate entities all listed on Dun and Bradstreet. Website: ParentsAgainstMandatoryVaccines
In 2010 after becoming aware of the massive amount of deception in our corporate political system she started hosting the Anti Corruption Society web site. Website:AntiCorruptionSociety
Then, in 2011, AL founded People for Safe Technologies as a response to the growing threat of electromagnetic radiation exposure. She lives within eye-shot of a cell phone tower that is located on the grounds of her community high school. Website: PeopleForSafeTechnologies
Today, with the help from others, AL manages all three websites and is focused on educating people as to what our so-called government 'really is' (versus what we have been told) and what we can do to empower ourselves in our current reality.