Originally published on: Nov 11, 2016 @ 17:42
The silicone mask inconsistencies throughout the years was a big clue.  Must of hired new FX artists to work on him and they dropped the ball.
I knew it but couldn't figure out who he was until I happened to see a video of Michael Ignatieff and instantly I could tell it was Kerry.  Do a little search for his spouse, and you see she's a match as well.
HE SHOULD BE DETAINED AND TRIED FOR TREASON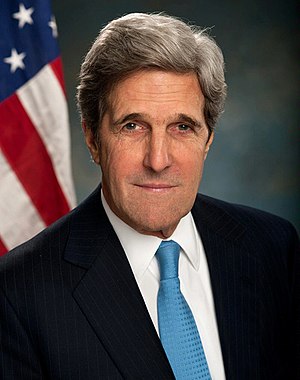 John Forbes Kerry (born December 11, 1943) is an American diplomat and Democratic Party politician who is the 68th and current United States Secretary of State. He previously served in the United States Senate, where he chaired the Senate Committee on Foreign Relations. Kerry was the Democratic nominee in the 2004 presidential election, losing narrowly to Republican incumbent George W. Bush.
Kerry was born in Aurora, Colorado and attended boarding school inMassachusetts and New Hampshire. He graduated from Yale University in 1966 with a major in political science. Kerry enlisted in the Naval Reserve in 1966, and between 1968 and 1969, he served an abbreviated four-month tour of duty in South Vietnam as officer-in-charge (OIC) of a Swift Boat. For that service, he was awarded combat medals that include theSilver Star Medal, Bronze Star Medal, and three Purple Heart Medals. Securing an early return to the United States, Kerry joined the Vietnam Veterans Against the War organization in which he served as a nationally recognized spokesman and as an outspoken opponent of the Vietnam War. He appeared in the Fulbright Hearings before the Senate Committee on Foreign Affairs where he deemed United States war policy in Vietnam to be the cause of war crimes.
After receiving his J.D. from Boston College Law School, Kerry worked as an Assistant District Attorney in Massachusetts. He served as Lieutenant Governor under Michael Dukakis from 1983 to 1985 and was elected to the U.S. Senate in 1984 and was sworn in the following January. On theSenate Foreign Relations Committee, he led a series of hearings from 1987 to 1989 which were a precursor to the Iran–Contra affair. Kerry was re-elected to additional terms in 1990, 1996, 2002, and 2008. In 2002, Kerry voted to authorize the President "to use force, if necessary, to disarm Saddam Hussein," but warned that the administration should exhaust its diplomatic avenues before launching a war.
In his 2004 presidential campaign, Kerry criticized George W. Bush for theIraq War. He and his running mate, North Carolina Senator John Edwards, lost the election, finishing 35 electoral votes behind Bush andVice President Dick Cheney. Kerry returned to the Senate, becoming Chairman of the Senate Committee on Small Business and Entrepreneurship in 2007 and then of the Foreign Relations Committee in 2009. In January 2013, Kerry was nominated by President Barack Obama to succeed outgoing Secretary of State Hillary Clinton and then confirmed by the U.S. Senate, assuming the office on February 1, 2013.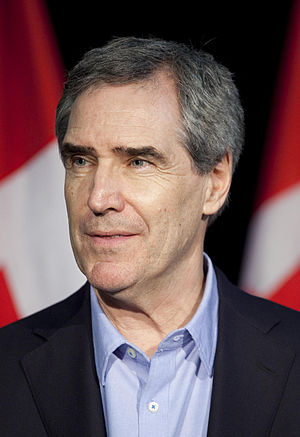 Michael Grant Ignatieff, PC (/ɪɡˈnæti.ɛf/; born May 12, 1947) is a Canadian author, academic and former politician. He was the leader of the Liberal Party of Canada and Leader of the Official Opposition from 2008 until 2011. Known for his work as a historian, Ignatieff has held senior academic posts at the universities of Cambridge, Oxford, Harvard and Toronto.
While living in the United Kingdom from 1978 to 2000, Ignatieff became well known as a television and radio broadcaster and as an editorial columnist for The Observer. His documentary series Blood and Belonging: Journeys into the New Nationalism aired on BBC in 1993, and won a Canadian Gemini Award. His book of the same name, based on the series, won the Gordon Montador Award for Best Canadian Book on Social Issues and the University of Toronto's Lionel Gelber Prize.[1] His memoir, The Russian Album, won Canada's Governor General's Literary Award and the British Royal Society of Literature's Heinemann Prize in 1988. His novel, Scar Tissue, was short-listed for the Booker Prize in 1994. In 2000, he delivered the Massey Lectures, entitled The Rights Revolution, which was released in print later that year.
In the 2006 federal election, Ignatieff was elected to the House of Commons as the Member of Parliament for Etobicoke—Lakeshore. That same year, he ran for the leadership of the Liberal Party, ultimately losing to Stéphane Dion. He served as the party's deputy leader under Dion. After Dion's resignation in the wake of the 2008 election, Ignatieff served as interim leader from December 2008 until he was elected leader at the party's May 2009 convention.[2] In the 2011 federal election, Ignatieff lost his own seat in the Liberal Party's worst showing in its history. Winning only 34 seats, the party placed a distant third behind the Conservatives and NDP, and thus lost its position as the Official Opposition.[3] On May 3, 2011, Ignatieff announced that he would resign as leader of the Liberal Party, pending the selection of an interim leader,[4][5] which became effective May 25, 2011.
Following his electoral defeat, Ignatieff taught at the University of Toronto. In 2013, he returned to the Harvard Kennedy School part-time, splitting his time between Harvard and Toronto. On July 1, 2014, he returned to Harvard full-time.[6] He continues to publish articles and essays on international affairs as well as Canadian politics.

UPDATE Dec 31, 2016 19:29
MORE EVIDENCE
The Biometric match.