Just Found This Nice Little Tidbit
http://www.tmz.com/2008/04/08/hillary-cmon-get-happy/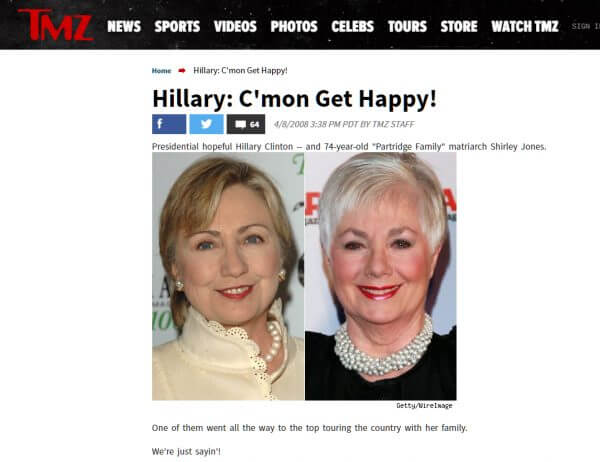 UPDATE 10/14  Hillary Clinton is a JONES  just like I said.
As I have stated many times before they only promote from their own family so the people you hear her talk about as examples are going to be people in her family that benefit from the mentioning them
[embedyt] http://www.youtube.com/watch?v=gtBePkrEr3w[/embedyt]
About 9 minutes in you hear her mention Don JONES.


Thanks, Timothy R  for the heads up on this one.
This one comes straight out of Wikileaks
Here is the email in its entirety so you can validate the header information.
Re: BuzzFeed | Questioning whether HRC's grandmother was an immigrant
"Adding that the 1900 census also shows Hannah Jones as born in PA: 
On Wed, Apr 15, 2015 at 5:33 PM, Monica Huegel <
[email protected]
> wrote:
From Irish America's April/May 2015 issue:
http://irishamerica.com/2015/03/hillary-clintons-celtic-roots/
Hillary's Welsh Grandmother Was Linked By Genealogists To The Wrong Parents Of Another Girl In Scranton, PA. "Meandering back another generation, I came to realize that other genealogists who had researched Hillary Clinton's ancestry had attached her Welsh grandmother, Hannah Jones, to the wrong parents (two girls named Hannah Jones were born in Scranton, PA circa 1882-1883 and they latched on to the wrong one). I also discovered that Hugh E. Rodham's parents had eloped. This revelation emerged gradually beginning with an oddly worded wedding announcement in a local paper. When I couldn't find a marriage record in Scranton as anticipated, I scoured newspapers instead and found a snippet in an August 1902 issue stating that the couple had wed in Binghamton, New York a couple of months earlier on Memorial Day. Now I understood why I hadn't found the record, but the choice of Binghamton revealed even more." [Irish America, April-May 2015]
On Wed, Apr 15, 2015 at 5:27 PM, Matt Ortega
<

[email protected]

>
wrote:
I have an Ancestry login if you need it.

On Wed, Apr 15, 2015 at 5:22 PM, Jesse Lehrich

<

[email protected]

>

wrote:

———- Forwarded message ———-

From: 

Andrew Kaczynski<

[email protected]

>

Date: Wed, Apr 15, 2015 at 5:09 PM

Subject: Question on Clinton comments on her grandparents immigrating here

To: 

[email protected]

, 

[email protected]

Hey,

 

I saw Sec. Clinton's comments on immigration at the Capital City Fruit on immigration where she said, "ya know if we go around this room there's a lot of immigrant stories. You know, all my grandparents, ya know, came over here. My grandfather went to work in a mill in Scranton, Pennsylvania…" (video attached on that).

 

One of my hobbies is doing the ancestry of presidential candidates and from what I can tell only one of her grandparents were born overseas. Her fraternal grandfather Hugh Rodham Sr. 

 

I know she's talked about her grandmother immigrating before at an an event last year (17:50).

 

[embedyt] http://www.youtube.com/watch?v=gtBePkrEr3w[/embedyt]

 

"She immigrated with her family as a young girl to Scranton and went to work — very young―in a silk mill, and then she met and married my grandfather, who had also come to this country as a young man from the coalmining area in Newcastle, in England."

 

Looking at census records it seems only her grandfather was an immigrant. Coming as a two-year-old boy:

 

You need an ancestry log in for this (I can give you mine if you need it).

 

 

While Hannah Rodham is listed as PA born on the 1910, 1920, and 1930 census records:

 

 

 

 

 

Her fraternal grandparents are also both listed as born in Illinois on the 1920 and 1930 census:

 

 

 

Her fraternal grandfather's drat card also lists him as born in the USA.

 

 

Any comment? I was going to do a small item on this. 

 

—


Jesse Lehrich

Rapid Response Associate

Hillary For America

@JesseLehrich
Tyrone Gayle
Regional Communications Desk
Hillary For America

OH, THIS ONE IS GOING TO PISS THEM OFF!!  MAKE SURE YOU GET THIS WORD OUT.   I THINK IT'S TIME WE BEGIN TO DISCUSS THE ACCOUNTABILITY PHASE AND HOW WE CAN EVENTUALLY ROUND THEM UP!
But until then, enjoy!
Update Oct 12th, 2016
The following information should prove to you that what I'm saying about this election and the family members who are all related, playing the roles of the candidates, is an entirely staged event.  All the way to the product placement of Tic Tacs. (The breath mint Donald Trump mentioned on the phony staged woman bashing Billy Bush bus.)  
How is that fake and why would they fake it?  Because 1.  Any mention of a product must be in line with the corporate laws adhered to by the Network they are referred to on.  CBS  is Desilu which is Disney, and that means the Royals from Germany.  
One of their puppets is George Soros, who is actually being played by the richest many in Italy Michael Ferrero.  Yes of the Candy conglomerate the makes Nutella and of course Tic Tac.  Are you connecting the dots yet?  No?  Ok, let's continue
As well as playing roles in other events like the George Zimmerman trial
The tall guy is Harry Link. The online talk so wannabe who attacked me and put out a video thinking he debunked me all the while this idiot is the Grandson of Soros. (Or the actor that plays Soros, however, you want to refer to him)
Watch my video on it.
[embedyt] http://www.youtube.com/watch?v=hDB4mMiLEIo[/embedyt]
---
But let's get back to the meat of the story.
As in previous elections, especially the one with HW Bush is running against Perot, and Clinton, all you have to do is look at this photo, and you will see the family hanging out. 
Now if you know my work, then you know HW Bush is not who he says a he is and is the brother of JFK and the son of Joseph P Kennedy Sr.  He is Joseph P Kennedy JR.  Who was said to of died in a plane crash (which is their favorite scam they love to kill the character off by)
Now knowing he is a Nazi and Ross is his Cousin as well as a Nazi.
How do you feel about this election now?  You see, it doesn't matter who you vote for, you are getting the same family.  Well, nothing's changed and you are doing the same thing all over again.  Allow me to show you.
The Bill Clinton Real name is William Jefferson Blythe III; his mother is a CASSIDY
[embedyt] http://www.youtube.com/watch?v=BvHmCZeQ09Q[/embedyt]
Knowing that Hillary is really Shirley Jones (WHO WAS MARRIED TO A CASSIDY) and gave birth to sons one of which is named Patrick Cassidy
[embedyt] http://www.youtube.com/watch?v=iX1GniWf8cU[/embedyt]
Recognize him?
That's Mike Pence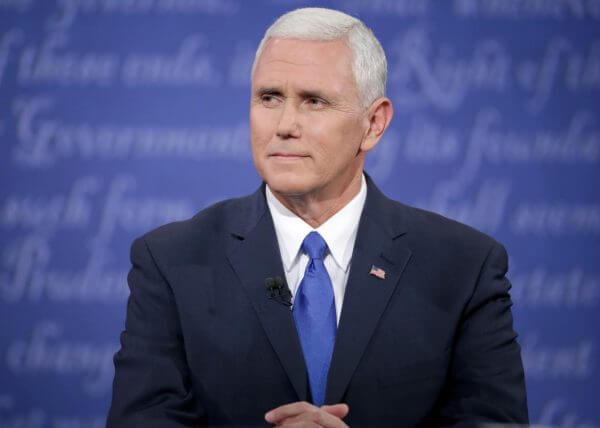 I'm going to make a video explaining even more of the connections, but this should at least suffice until they.  So get the word out and remember to become a Member of Wellaware1.com.
UPDATE Oct 10th 2016
Shirley Jones always talks about how her mother LOVES Shirley Temple.  The temple was a government agent who trained other ambassadors the trade.  It's well known now that Hollywood is the breeding ground for our US spies.
[embedyt] http://www.youtube.com/watch?v=BvHmCZeQ09Q[/embedyt]
I had a meeting with a person who brought to my attention that President Bill Clinton's grandmother is a "Cassidy." I just had a chance to confirm this info. If you are familiar with my video outing Shirley Jones as Hillary, you will recall Shirley, of course, was married to a Cassidy and her supposed first husband Jack (who they claim died in a fire that was lit when he fell asleep with a cigarette burning) is, in fact, her second husband, Marty. Marty, in an attempt to mislead me called and gave me an interview and used the name, Bill Haskins. I stated in the video that I believed that fake name was a code for Bill Has Kin" He pushed me to use that false name and that eagerness for me to use it raised a flag and I searched for the name to see if it was associated with anyone. That was when I found Marty using the name for a LinkedIn account. Seeing that Bill Haskins was Marty, was the connection I needed to validate what I have suspected that Bill Clinton is, in fact, Marty's Kin.
OH MY!
[embedyt] http://www.youtube.com/watch?v=BvHmCZeQ09Q[/embedyt]
UPDATE OCT 6th 2016
More Marty.  I decided to go and look at a few random speaking engagements Hillary has done in the past and 3 out of 5 I looked at; Marty was visible.  Now you tell me she is not Shirley Jones when first off the bio-metrics match, and that Marty used to be Shirley intro when she would speak, NOW  you see him at Hillary speeches, when he's supposed to be dead, and he tried to con me when he called me to give me the fake info but slipped up when he pushed for me to publish his fake name that I traced to a photo of him on LinkedIn.com?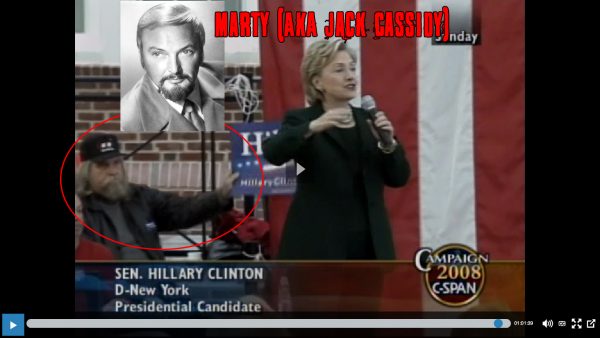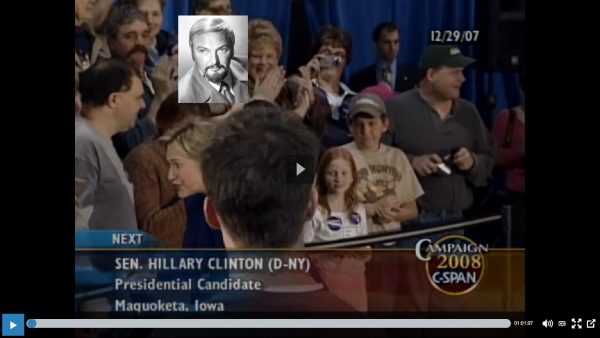 The Facts About Bill Clinton
NAME: Virginia Kelley BORN: June 6, 1923, DEATH: January 6, 1994, RELATIONSHIP: President Clinton's mother
BIOGRAPHY:
(Source: Clinton Biography "First in His Class," by David Maraniss) Virginia Kelley was the daughter of Edith and Eldridge Cassidy, the town iceman in Hope, Arkansas. She worked during her teenage years as a waitress at the Checkered Cafe and immersed herself in activities at Hope High School, including the National Honor Society, student council, press, library, music and science clubs. She was freshman class secretary. She was regarded as a cheerful, unaffected girl who loved to laugh and flirt.
When she graduated high school, Virginia left Hope for the nearest big city — Shreveport, Louisiana, fifty miles south — to study nursing at Tri-State Hospital. It was there that she met Bill Blythe, who was known as W.J. (for William Jefferson) by his family in Texas. Blythe went by other names - he could not be associated with one name or one birth date. His family claimed he was born on February 27, 1918, but his military records showed his birth date as February 21, 1917. No real reasons were given for the different dates, but it was insignificant to Virginia. Of their meeting, she said it was love at first sight - and forgot about an old boyfriend from Hope whose ring she had worn for four years.




 IT'S ALL A FAMILY BUSINESS
Hillary and Chelsea were both in Aruba (on official business) when the so-called disappearance of Natalie happened.  How much of the taxpayers $$ funded this BS story?
Wherever Hillary gives a speech, you can find Mary in the picture.  Usually in the front row.